TRUSTe APEC CBPR and PRP Privacy Certifications
Demonstrate privacy compliance with TRUSTe APEC Cross-Border Privacy Rules (CBPR) and Privacy Recognition for Processors (PRP) Certifications.
The Asia-Pacific Economic Cooperation (APEC) CBPR framework is a voluntary, enforceable program designed to ensure the continued free flow of personal information across APEC member economy borders, while establishing meaningful protection for the privacy and security of personal information. It is the first framework approved for the transfer of personal data between all APEC member countries, with the U.S. being the first formal participant and the Federal Trade Commission (FTC) serving as the first enforcement authority.
What is APEC?
Established in 1989, APEC stands for the Asia-Pacific Economic Cooperation and is a forum for 21 Pacific Rim member economies that promotes free trade throughout the Asia-Pacific region. Members include all countries that have a coastline along the Pacific Ocean, including China, Japan, and the United States.
The criterion for membership is that the member is a "separate economy", rather than a country – which expands coverage and extends membership to economic regions such as Taiwan and Hong Kong. The 21 APEC members represent over 40% of the world's population and over 60% of global GDP.
APEC has instituted a wide range of programs to help promote free trade across the region, including developing the APEC Privacy Framework which is designed to provide an accountable approach to managing data privacy protection and the flow of personal information across borders. Businesses can demonstrate their adherence to the APEC Privacy Framework by certifying their privacy practices to the following standards: Cross Border Privacy Rules (CBPR) System – which governs "data controller" privacy practices; or Privacy Recognition for Processors (PRP) System – which governs "data processor" privacy practices. The FTC is the Privacy Enforcement Authority for the United States' participation in the APEC CBPR and PRP systems and may be contacted here.
APEC CBPR or PRP Certification
APEC CBPR for Data Controllers
For data controllers, the CBPR certification represents the requirements for those that control the collection, holding, processing, or use of personal data.
APEC PRP for Data Processors
If your business operates as a data processor, the PRP certification represents the baseline requirements you must meet in order to be recognized as a qualified processor by data controllers.
TRUSTe Certifications are conducted in three phases:
Assessment Phase
Privacy Assessments provide the information required to understand and remediate compliance risks. An experienced member of our Global Privacy Solutions team guides you through the process, utilizing our proven methodology and powerful technology.
Certification Process
Based on the information gleaned from the assessment, the Global Privacy Solutions team guides you through the remediation process, helping to ensure required changes are completed.
Remediation Assistance
Rely on us to help you remediate gaps in your privacy programs, and validate that your privacy statements reflect your privacy practices and are consistent with applicable standards.
Letter of Attestation
As proof of TRUSTe Certification, an official Letter of Attestation can be shared with your business partners, providing your organization with competitive differentiation.
TRUSTe APEC Seal
After completing the required changes, we authorize your use of the TRUSTe APEC certification seal.
Ongoing Monitoring and Guidance Phase
Searchable Audit Trail
All assessment work and supporting documentation is available in a searchable, central repository – providing a way to respond to inquiries and demonstrate compliance for internal / external audits.
Dispute Resolution
Access to our third-party dispute resolution service, which helps efficiently manage privacy inquiries from customers and addresses dispute handling compliance requirements.
Ongoing Monitoring and Guidance
Ongoing compliance monitoring is provided throughout the term of the agreement. Access to privacy experts is provided for ongoing policy guidance along with educational webinars, events, whitepapers, client advisories, privacy tips and research.
TRUSTe Privacy Feedback Button
External demonstration to consumers, business partners and regulators showing that your company uses TrustArc technology and tools to manage privacy-related questions or concerns. The Privacy Feedback Button may be placed on your digital Privacy Policy page, linking to a mechanism for consumers to submit questions or feedback.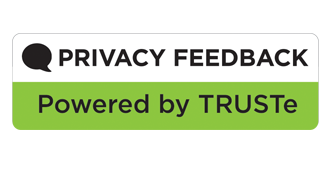 For more information on the certification standards applicable to the APEC CBPR Certifications, please see here.
To view TRUSTe's APEC CBPR and PRP accountability agent participation document, please see here.
To see all TRUSTe Certifications and Assurance Services, visit Demonstrate Compliance.
Enable safe global business expansion through
APEC privacy-compliant data transfers