TRUSTe Enterprise Privacy Certification
Ensure your business, products, and services demonstrate responsible data collection, processing and privacy management practices.
Convincing customers and business partners that they can trust you with the processing of their personal information is more important than ever. Demonstrating responsible data collection and processing practices that are consistent with regulatory expectations and external standards for privacy accountability is critical to your company's credibility, brand reputation, and bottom line.
Enterprise Privacy Certification Standards
TRUSTe Enterprise Privacy Certification Standards are aligned with the standards set forth in the TrustArc Privacy & Data Governance Framework which enable organizations to design and/or engineer effective privacy and data governance controls into organizational processes, products and technologies – and maintain or enhance those controls throughout the lifecycle for the product, process or technology. The TrustArc Framework Standards are based upon recognized laws and regulatory standards, such as the OECD Privacy Guidelines, the APEC Privacy Framework, the EU General Data Protection Regulation ("GDPR"), the U.S. Health Insurance Portability and Accountability Act ("HIPAA"), ISO 27001 International Standard for Information Security Management Systems and other global privacy laws and regulations.
TRUSTe Certifications are conducted in three phases:
Assessment Phase
Privacy Assessments provide the information required to understand and remediate compliance risks. An experienced member of our Global Privacy Solutions team guides you through the process, utilizing our proven methodology and powerful technology.
Remediation and Certification Phase
Based on the information gleaned from the assessment, a member of the Global Privacy Solutions team guides you through the remediation process, helping to ensure required changes are completed.
Remediation Assistance
Rely on us to help you remediate gaps in your privacy programs, and validate that your privacy statements reflect your privacy practices and are consistent with applicable standards.
TRUSTe Verified Privacy Seal
After completing the required changes, we authorize your use of the TRUSTe Verified Privacy seal for display on applicable digital properties. The seal is hosted and linked to a TRUSTe Validation Page to provide real-time verification along with an easy-to-understand consumer notice verifying your company meets globally recognized privacy requirements.
Letter of Attestation
As proof of TRUSTe Certification, an official Letter of Attestation can be shared with your business partners, providing your organization with competitive differentiation.

Ongoing Monitoring and Guidance Phase
Searchable Audit Trail
All assessment work and supporting documentation is available in a searchable, central repository – providing a way to respond to inquiries and demonstrate compliance for internal / external audits.
Dispute Resolution
Access to our third-party dispute resolution service, which helps efficiently manage privacy inquiries from customers and addresses dispute handling compliance requirements.
Ongoing Monitoring and Guidance
Ongoing compliance monitoring is provided throughout the term of the agreement. Access to privacy experts is provided for ongoing policy guidance along with educational webinars, events, whitepapers, client advisories, privacy tips and research.
TRUSTe Privacy Feedback Button
External demonstration to consumers, business partners and regulators showing that your company uses TrustArc technology and tools to manage privacy-related questions or concerns. The Privacy Feedback Button may be placed on your digital Privacy Policy page, linking to a mechanism for consumers to submit questions or feedback.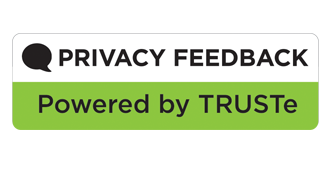 Click here to review the Enterprise Certification Program Requirements.
To see all TRUSTe Certifications and Assurance Services, visit Demonstrate Compliance.
Assess and certify your privacy program meets global standards